Once I was young
Once I was smart
Now I'm living on the edge of my nerves
The things we said weren't quite so tough
When we were young...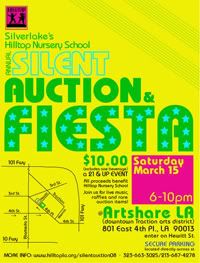 Last night we went to a silent auction/show/fiesta at
Artshare LA
in aid of Silverlake's Hilltop Nursery school... I'm not usually one for hanging out with the art crowd (except Faris!) but Laura's friend Nicole works at the school and we hooked her up with
Jose Promis
who provided the live music...
There were some interesting items up for auction including a
Takashi Murakami
hardback book, a cool looking set of bongos and a couple of Eames chairs made by Herman Miller. However, I resisted the temptation to bid on these and the guitar signed by Creed (I'm kidding about that one...)