Three of 415 Records finest embarked on a short California tour starting at LA's The Knitting Factory. Romeo Void (or Debora Iyall and friends as it was billed) started off the evening in spritely fashion and it was great fun. It's easy to see how Iyall's voice (particularly on songs like 'Never say Never') was a massive influence on Britpop's leading ladies like Justine Frischmann (Elastica) and Louise Werner (Sleeper)... The set started out in semi acoustic fashion with Translator's Dave Scheff joining on drums as they worked their way up to a brilliant 'Never say Never'.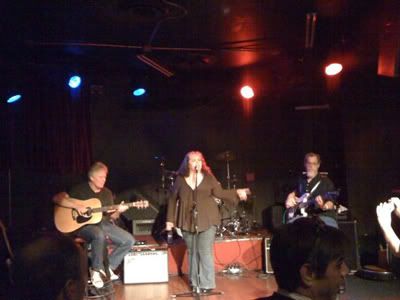 I must admit I missed out on Translator in the 80's - they didn't get the exposure in Europe that a number of strong support tours afforded Wire Train. Not dissimilar to early Wire Train, Translator are all chiming jangly guitars and driving basslines - singer Steve Barton an anglophilic cross between Howard Devoto and Terry Hall! Not sure whether Translator play together a lot but they sounded great - everything held together by Scheff's rock-steady drums.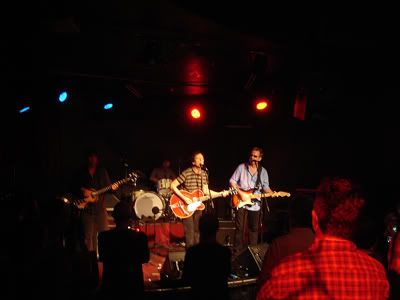 It's been about 5 years since Wire Train last played live - for the pilot of VH1's Bands Reunited. The current reunion (hopefully longer than the three dates on this tour) sounded an all together more planned affair, with the band running through songs from the recently released 'Snug' LP. 'Snug' was rejected by MCA in 1993 for being "too weird" and stayed unreleased for many years. It doesn't sound at all weird now, although you can just imagine the execs at MCA shifting uncomfortably in their chairs when listening to the first track 'Who gives a shit'... The best songs from 'Snug' last night were 'Superstar' and 'Enemy', the latter featuring some fine soloing from Jeff Trott. Aside from 'Snug', WT played songs from all their LP's including the iconic 'Chamber of Hellos' and 'Last Perfect Thing' - their UK hit from the early days of MTV. They finished with one of my favorite tracks '17 spooks'... Great show, and with the tracks from 'Snug' sounding really fresh, this was so much more than an 80's nostalgia trip. Who gives a shit? I certainly do!